SteamGolf is a beautiful and challenging golf simulator that adds physical doors and gravity manipulation into the mix.
Gameplay
Use one of the three clubs to shoot with the desired strength and angle.
Navigate trapdoors and gates through levers and buttons.
Use "Gravity Drive" to stabilize shots and manipulate bounces.
Pan (using one finger) and zoom (using pinch gestures) to take a better look at what lies ahead.
Learn to navigate different surfaces: Metal, Rubber and Ice..
Adventure Mode
Unlock more courses by beating all the levels in each course.
There are six courses in all.
Try to collect 3 stars in each level.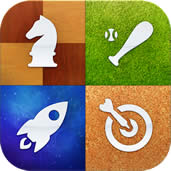 Game Center Features
Leaderboards: Individual leaderboards for each course, and one overall leaderboard.
Achievements: 7 achievements to unlock, with more on the way!
Turn Based Multiplayer: Challenge your friends to a 3 round game with random levels.
Reviews
Once I got the hang of it, it was hard to put down until I beat the whole game!

Anonymous
It was pretty exciting to get a hole-in-one!

Kevin K.
Comments, Requests & Bug Reports
Technologies Used
The Team
Patrik Spacek(Art & Level Design)
Mitesh Shah(Programming & Music)
Marvin Hawkins(Design & Marketing)
Steven Googe(Sound Design)
Jeremiah Cauthorn(Additional Programming)
Special Thanks: Andrew Thayer, Mark Vernon